The Perhentian Islands are located in Malaysia, and became a very popular tourist destination because of the lodging options that accommodate almost any budget. There are two main islands, Perhentian Besar and Perhentian Kecil, the latter being the smaller of the two. Both are composed of palm-fringed white coral sand beaches and turquoise blue sea. On the islands you can play water sports, camp, fish, canoe, jungle trek and much more. Around the two main islands are five uninhabited islands, which have great diving spots. Time for the adventure begin!
Source: DxCoffee
The first thing you should know about the Islands is that they were once home to a huge green and hawksbill sea turtle population. Nowadays the island merely receives 300 nestings per year because of the frequent oil spills nearby. You can still spot sea turtles along the beaches, and thankfully The Department of the Fisheries runs a turtle hatchery on the islands to help manage the declining turtle populations.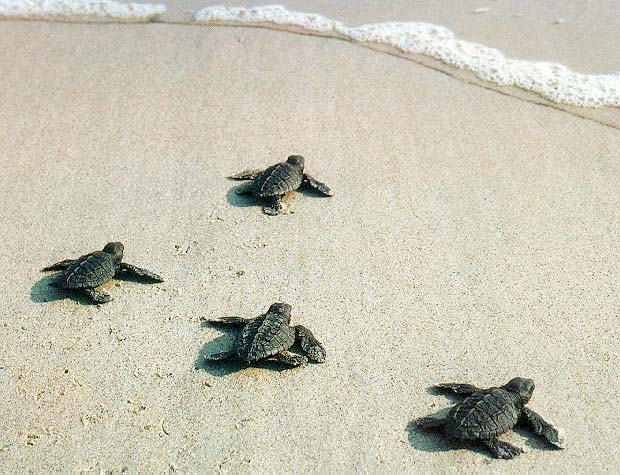 Source: HedWeb
The sea turtles may be one of the most beautiful animals of the islands, but the beaches are definitely the best feature. No matter where you stay on any of the islands, you will have a beautiful beach right at you doorstep. Long Beach and Coral Beach are two of the most popular beaches, but there are many isolated ones that small expeditions can take you to. Locals recommend Turtle Beach and Mira Beach as some of the best. Keep an eye out for private boats on some of the main beaches – their owners will take you wherever you'd like and pick you up at your chosen time later.
Source: IntrepidTravel
A beautiful island with beautiful beaches makes snorkeling something you do not want to miss! The water around the Perhentian Islands is filled with colorful corals and fish so diverse that you will keep bobbing up and down in the water for hours! You can also chose to scuba dive and see the ocean like never before. For an even better experience, get a local guide through GLYD and have them take you to the best reefs around.
Source: TripFez
Take a break from the beach and explore the lively jungles of the islands – you are sure to encounter wildlife, waterfalls, and maybe even another breathtaking beach!
Source: EarthTimes
When vacationing on the Perhentian Islands, you cannot miss the sunset! Venture to Coral Bay Beach to spot one of the greatest sunsets of them all, and then get ready to have a little fun. The island does not have any clubs, so everyone gathers together on the beach and sits, drinks, or dances the hula – sometimes the locals even give a performance of traditional dances. You are guaranteed to get the full Perhentian experience and have a great time as well.
Source: TamanNegara
In these two islands three things are for sure: you will always be surrounded by nature, beautiful people, and be left with many stories to remember and share.